Profits and Gains of Business and Profession (PGBP) - Prof. Saurabh Bhat (Eng) for Nov 21.
CA | CA FINAL FULL COURSE
Expire On: 30 Nov 2021
Welcome to Chapter 3 of Direct Tax and International Taxation - PGBP by Prof. Saurabh Bhat. This is applicable for Nov 21 exams. This Chapter Includes - Introduction and charging section, Depreciation , Section 33AB, Scientific Research Expenditure, Telecom license, Specified Business, Preliminary expenses, Section 36 , Section 37 , Section 40, Section 40A , Section 41, Section 43B, Section 44AA, Section 44AB, Presumptive Taxation.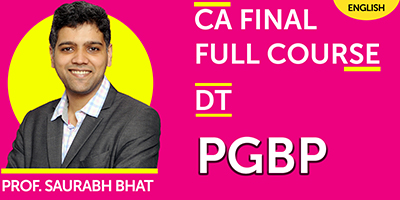 ₹1,999.00 ₹ 1,199.00
Enroll Now
What you'll learn