AUTHORITY FOR ADVANCE RULING - Prof. Nihit Jhaveri (Eng) for May 21, Nov 21.
CA | CA FINAL FULL COURSE
Expire On: 30 Nov 2021
Welcome to Chapter 19 of Direct Tax and International tax - AUTHORITY FOR ADVANCE RULING by Prof. Nihit Jhaveri. This is applicable for May/Nov 21 exam. This Chapter Includes - Introduction, Sec. 245N: Definitions, Sec. 245-O: Constitution Of AAR, Sec. 245P: Vacancies caused shall not Invalidate the Proceedings, Sec. 245Q: Application to AAR, Sec. 245R: Procedure to be followed by AAR, Sec. 245RR: Income Tax Authorities not to proceed further in certain circumstances, Sec. 245S: Binding nature of Ruling pronounced , Sec. 245T: Ruling to be Void in certain cases and Sec. 245U And 245V: Powers of AAR.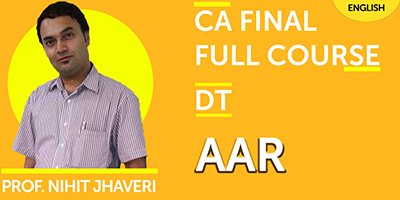 ₹299.00 ₹ 199.00
Enroll Now
What you'll learn